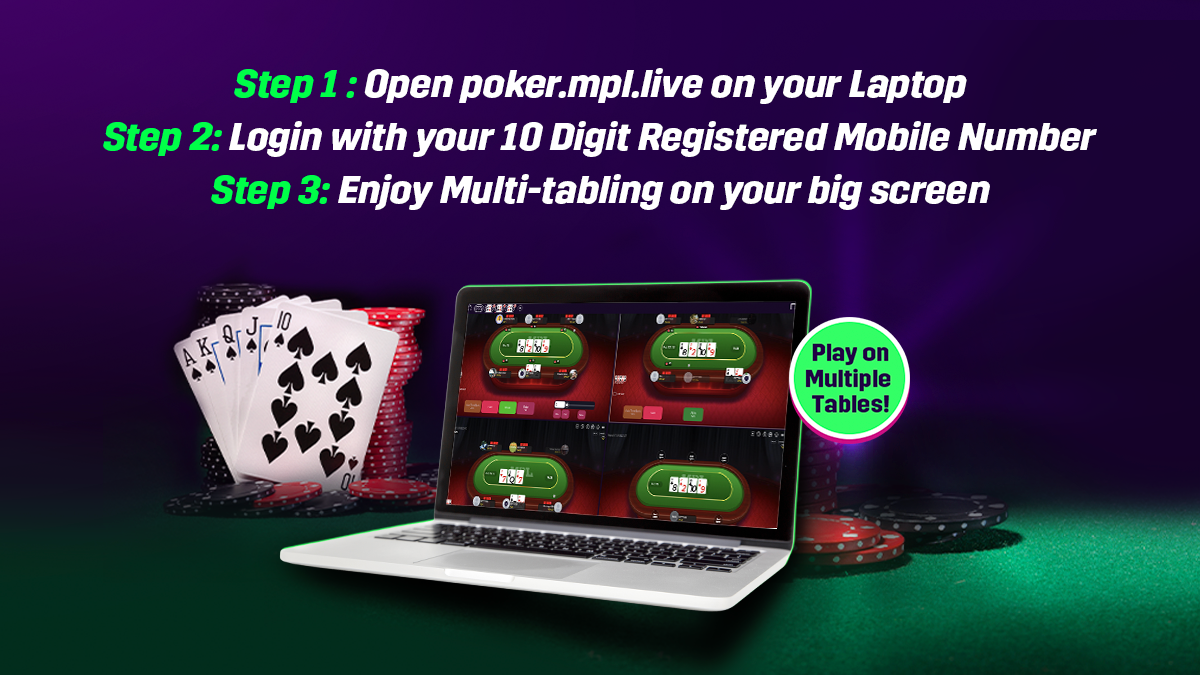 Play Poker on poker.mpl.live
There is no disputing the fact that poker is one of the most popular card games in the world. With millions of people playing poker online on their mobile screens, any enhancement in the gaming experience is bound to be embraced by poker players.
Poker is a game of volume where poker players play a large number of hands, simultaneously focusing on multiple tables. Playing poker on smaller screens gets challenging for players when they want to play multiple hands simultaneously. Players often miss important actions while switching between tables and can be rushed to make their moves as well, which sometimes leads to mistakes.
The small screen size & limited information that mobile poker can be guilty of calls for having wider screens to provide a seamless multi-table experience. Mobile Premier League (MPL), the trending Esports and skill gaming platform, is committed to improving its users' gaming experience. Realizing the challenges faced by poker players while playing on their mobile screens, MPL rolled out its Desktop Poker feature for users across the country. The feature primarily focuses on its existing user franchise.
Also Read: Top Poker Tips for Successfully Multitabling Online
This is, perhaps, the most-awaited feature for MPL poker players as it enables them to play a larger number of hands with ease on a single frame. This feature auto-adjusts the tables to the screen size and splits the screen into 4 equal parts when playing on multiple tables.
Initially, the feature will allow only the existing MPL users to log into MPL Poker on desktop, using their existing login credentials of the MPL app. The users can access various features while playing web poker. New users will have to first download and install the MPL app to access the desktop app of Poker when it is available for them.
MPL has received an overwhelming response from the poker community, becoming the largest poker room in the country. MPL Poker boasts the biggest cash game traffic of any gaming operator in the Indian market, and this feature will significantly spike up the numbers.
The existing Poker players on MPL can access the desktop feature on poker.mpl.live website by simply logging in using their mobile number registered on MPL. Play more hands and stand a chance to win the leaderboard while indulging in the immersive poker experience on MPL.