Call Break Leaderboard ek aisa contest hai jo roz alag alag time pe chalta hai and alag alag lobbies pe chalta hai.
For example – 20rs lobby ka leaderboard 8am-1pm aur 3-8pm ke bich chalta hai
Leaderboard Kya Hai?
MPL Leaderboard ke zariye aise users ko prize deta hai jo jyada se jyada game roz khelte hai jab leaderboard chal raha hota hai.
Leaderboard ka prize kaise jeete?
Users ko jyada se jyada game khelne hote hai agar unhe leaderboard jeetna hota hai to. 1st Rank aane wale user ko 5,000 tak ka inaam mil sakta hai. Har table ke leaderboard ka prize alag alag hai and roz MPL 1 Lakh tak ke prize deta hai Leaderboard ke zariye.
Maan lijiye ki 20rs ki table mein 10,000 log khel rahe hai and apne 100 games khel liye 8am-1pm aur 3-8pm ke bich and apse jyada kisi ne itne games nahi khele, to apki Rank 1 aa jaygi and apko 1,000rs ka EXTRA prize milega.
Aise karte karte sab users ko rank di jaygi and top 100 aane wale users ko prize milega.

To uthaiye apna phone aur MPL pe khelo Call Break!

Step1: Click on the image

Step2: Choose the Leaderboard and Play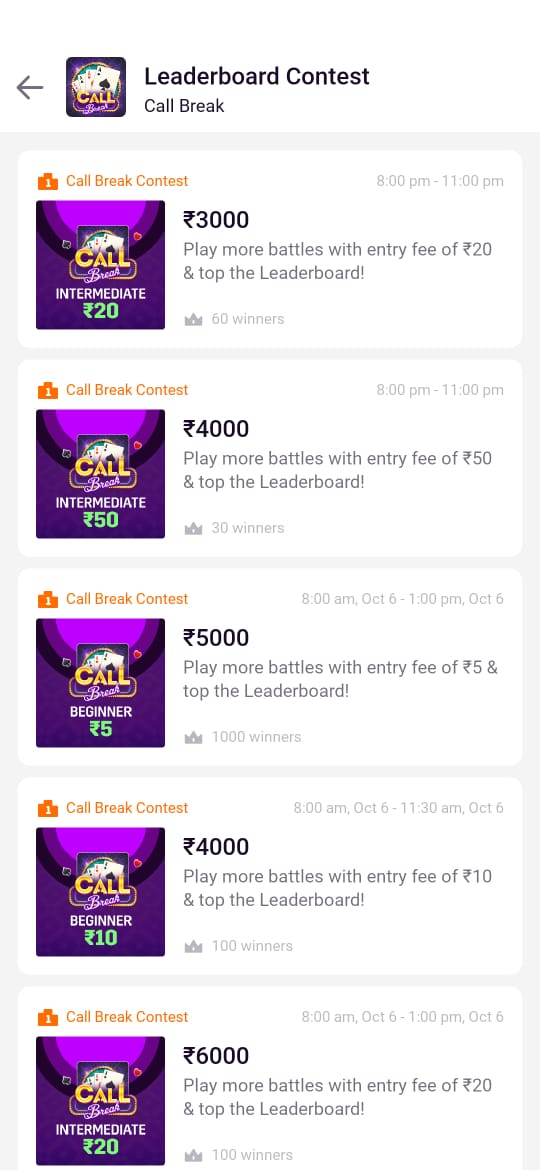 MPL Call Break Daily Event Board:
| | | |
| --- | --- | --- |
| Event/Format | Timing | Offer/ Rewards |
| ₹5 Call Break Leaderboard | 8 AM to 1 PM | Prize Pool: ₹5,870 |
| ₹10 Call Break Leaderboard | 9 AM to 12:30 PM | Prize Pool: ₹3,800 |
| ₹20 Call Break Leaderboard | 8 AM to 1 PM | Prize Pool: ₹6,000 |
| ₹35 Call Break Leaderboard | 9 AM to 12:30 PM | Prize Pool: ₹5,350 |
| ₹50 Call Break Leaderboard | 10 AM to 3 PM | Prize Pool: ₹8,000 |
| ₹100 Call Break Leaderboard | 9 AM to 12:30 PM | Prize Pool: ₹4,525 |
| ₹200 Call Break Leaderboard | 12 PM to 5 PM | Prize Pool: ₹6,300 |
| ₹10 Call Break Leaderboard | 6:30 PM to 10:00 PM | Prize Pool: ₹3,800 |
| ₹20 Call Break Leaderboard | 3 PM to 8 PM | Prize Pool: ₹6,000 |
| ₹35 Call Break Leaderboard | 6:30 PM to 10:00 PM | Prize Pool: ₹5,350 |
| ₹50 Call Break Leaderboard | 6 PM to 11 PM | Prize Pool: ₹8,000 |
| ₹100 Call Break Leaderboard | 8 PM to 11:30 PM | Prize Pool: ₹4,525 |
| ₹200 Call Break Leaderboard | 7 PM to 12 AM | Prize Pool: ₹6,300 |